Bitkovs family case:
Victims of a corrupted system or accomplices?
The Bitkovs family story could be the basis for a film of an international espionage intrigue.
Their struggle to survive the pursuit of a political system and their desire to have a normal life,
have exposed them to dangerous and complicated situations.
Russian businessmen, Igor and Irina Bitkova, owned a pulp and paper mill in Russia. According to their statements and according to international support, they were victims of a "corporate raid" and then not to give in to political pressure, were forced to leave Russia and moved to Guatemala in 2009, with their daughter Anastasia. The Bitkov's received their DPI and Guatemalan passports from Guatemalan authorities hands and they established themselves in Guatemala City, where Vladimir, their youngest son was born, being still under age. However, fate had prepared a very bitter pill to swallow, their new life, their new identities and all their projects would fall down when it was discovered that the documents they had submitted, and legally extended by Guatemalan authorities and in their desperation to have a new life, they were swindled and fell into the hands of Guatemalan government mafias like Direction of Immigration, the RENAP and unscrupulous law firm "Cutino International offshore".
You begin to see the light
After a year of being imprisoned on charges of Usurpation of civil status and Use of false documents, on January 15, Judge on Major Risk B court, Miguel Angel Galvez gave Irina Bitkova and daughter Anastasia, freedom under the benefit of alternative measures. However, Igor Bitkov still remains deprived of freedom.
A mafia with international tentacles
According to counsel's comments Lic. José Rolando Alvarado, the Bitkovs were victims of an international network that had been operating in Guatemala for a very long time, and although the Bitkov's are curiously the only foreigners who have suffered persecution and imprisonment, there are currently more than 40 ex employees of RENAP and Migration Office held prisoners, accused of being part of this criminal organization.
Although the law firm Cutino International offshore has been noted as the intellectual hub of this network that provided false documents, there is a great secrecy, both by the Prosecutor's Office and the CICIG, in their network relationship with the Migration Office and RENAP and a possible future arrest.
The accusing Bank does not present evidence
The Russian government accuses the Bitkov family of defrauding several banks to which the defense attorney Lic. Jose Rolando Alvarado, replied that the charges brought by the Russian bank VTB, has no legal or factual basis, because there is no element or evidence of alleged fraud, it stresses that this charge was not included in the indictment of the Public Prosecutor, reflecting their lack of legal weight. On the subject, Irina Bitkova said at a Public Hearing: "everything is a political scam and has no foundation".
A shameful theft comes out
Being placed under arrest, the Bitkov's family house, located in Casa & Campo condominium, at kilometer 23.5, on highway to El Salvador in Fraijanes, was under the Civil National Police's guard, which had custody of the goods the Bitkovs had left, however, the property was systematically looted, causing very large economic losses. Bitkov's lawyers have initiated criminal proceeding against the Prosecutor's Office and PNC and claim to the Police's Professional Responsibility office to clarify this theft. C4 determined that during the time the house was guarded, surveillance was conducted by approximately 60 different agents.
Victims or accomplices of a Corruption system?
The Bitkov's case uncovers many questions regarding the mafias entrenched in  government agencies of Guatemala. How many foreigners have been scammed? How many have traveled with documents? Does this kind of practice continue? And with respect to the status of "political persecution" according to the international press, the evidence presented by the Bitkov on its website, the lack of action by the Russian bank, the support of a US senator and the billionaire Bill Browder, it poses a very different picture than when it was originally introduced, when this case came to light. The Guatemalan justice has a hot potato in its hands, burning the insides of national corruption but also reaches the international mafias and even the Russian government.
What is the Corporate Raid?

It is a sophisticated form of organized crime, used to take control of other people's companies. The practice flourishes in countries where there is a weak rule of law and high levels of corruption. In our case the corporate raid is part of a political persecution, both Bill Browder like us, are victims of Russian corruption and the government of Vladimir Putin.
Senator Roger Wicker USA
US Senator Roger Wicker, in a letter to the president of Guatemala, the Secretary of State Jon Kerry, the Guatemalan Foreign Minister Raúl Morales and Attorney General Thelma Aldana said that in 2009 the Bitkov family was forced to leave Russia for refusing to pay bribes and to get to Guatemala were victims of corrupt lawyers and officials who under false pretenses were given false documents.
Furthermore and punctually mentions, that: "the US Congress has held numerous hearings and passed laws that make the regime of President Putin, reproving their violations to Basic Human Rights in Russia, and as such, we urge the Government of Guatemala to resolve the Bitkov's family legal case as soon as possible and consider granting this request for political asylum".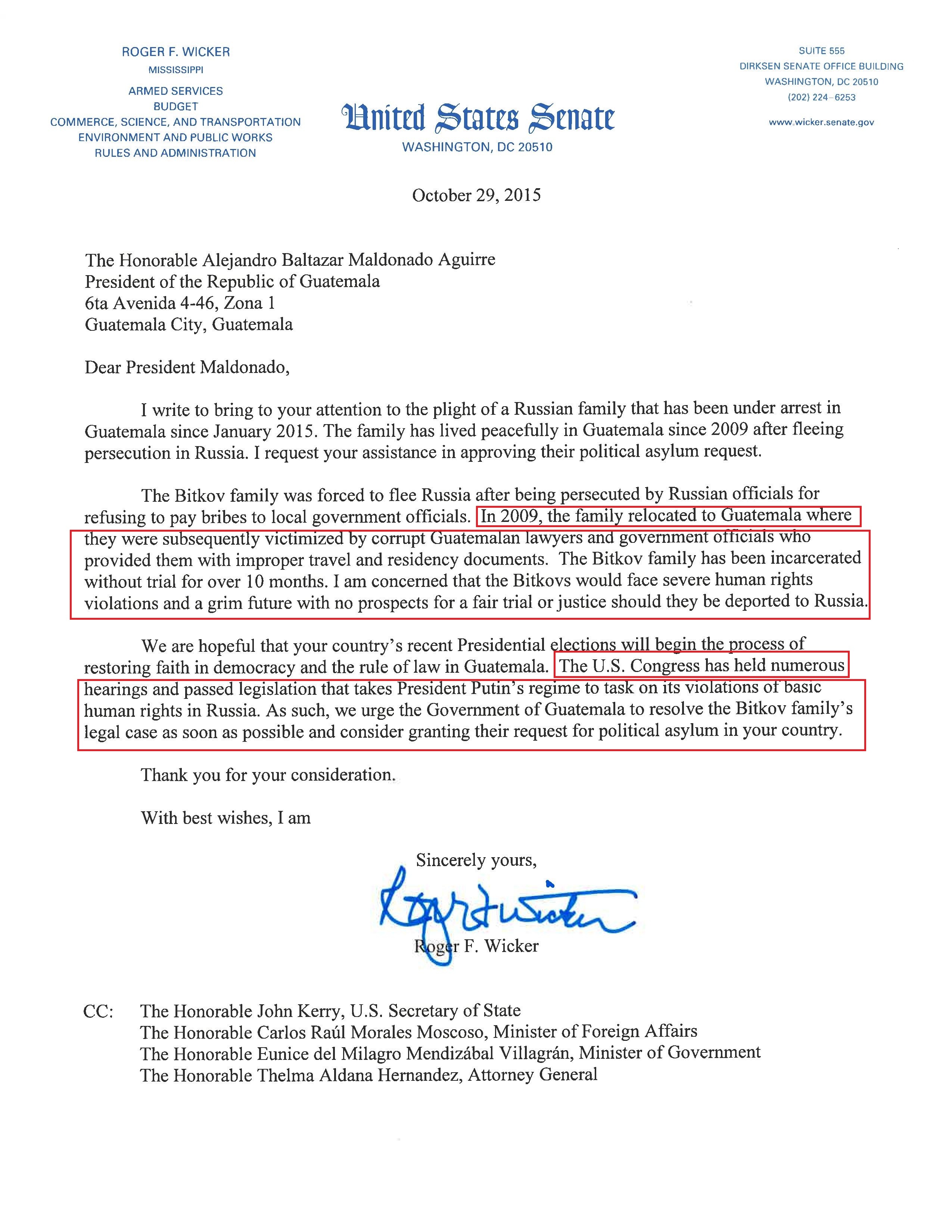 A Victim to Russian Political and Economical Terrorism A demonstration of solidarity
American businessman Bill Browder, was also a victim of what is known in Russia as Corporate Raids: (confiscation of businesses and other assets, with the help of corrupt police and judges). Their struggle against the Russian system has reached the highest level, and in solidarity with the case of the Bitkovs, sent a letter to then-President Alejandro Maldonado, who in one paragraph states: "The bad treatment this family is suffering, it raises serious questions about Guatemala fulfilling its Human Rights commitments, including the Convention on the Child's Rights. It also raises questions about how Guatemala is being manipulated by corrupt Russian officials ".
The international press has taken the Bitkovs case and the "corporate raid" very seriously!